Recommended books for the Entrepreneur
In this first in the series, I am recommending two books that all aspiring entrepreneurs should read. Learning from the wins and losses of others can shortcut your path to success. And these two books in particular are ripe with suggestions and concepts you need to internalize.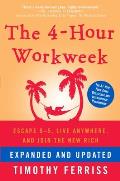 In his book The 4 Hour Workweek Tim Ferris guides us through the path he has taken to cut income production down to the bare essentials. This happens to be one of my all time favorite books dedicated to the life of an entrepreneur. You may not ever reach the goal of "freedom of time and location" but the principals that guided him should still be taken to heart. Read this book, I will talk about concepts from it on a quite regular basis in the entrepreneur podcast.
If you are not familiar with Tim Ferriss you should get to know him, frequent his blog and podcast. The 4-Hour Workweek has spent seven years on The New York Times bestseller list. Tim has been featured by more than 100 media outlets including The New York Times, The Economist, TIME, Forbes, Fortune, Outside, NBC, CBS, ABC, Fox and CNN. He has guest lectured in entrepreneurship at Princeton University since 2003. His popular blog www.fourhourblog.com has 1M+ monthly readers, and his Twitter account @tferriss was selected by Mashable as one of only five "Must-Follow" accounts for entrepreneurs.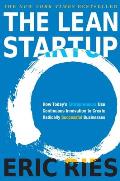 Most startups fail. But many of those failures are preventable.
Eric Ries defines a startup as an organization dedicated to creating something new under conditions of extreme uncertainty in his must read book, The Lean Startup. They have a mission to penetrate the fog of uncertainty to discover a successful path to a sustainable business.
The Lean Startup approach fosters companies that are both more capital efficient and that leverage human creativity more effectively. Inspired by lessons from lean manufacturing, it relies on "validated learning," rapid scientific experimentation, as well as a number of counter-intuitive practices that shorten product development cycles, measure actual progress without resorting to vanity metrics, and learn what customers really want. It enables a company to shift directions with agility, altering plans inch by inch, minute by minute.
I love Powell's Books and will support them, you should too.