Entrepreneur Reading List - Part 2
In part one of my Entrepreneur Reading List series I covered The Four Hour Work Week and The Lean Startup. In this installment I am going down a slightly different path, rather than focusing on efficiency these two are based around brand development, another critical skill for entrepreneurs.
Branding Books Every Entrepreneur Should Read

Brand Bible The Complete Guide to Building Designing & Sustaining Brands
I cannot overstate the importance of brand development, regardless of whether you are creating consumer facing products. The core principals are critical to your success. This book might have a grandiose title, but it is a very good guide to understanding brand development.
From the Publisher. A comprehensive resource on brand design fundamentals. It looks at the influences of modern design going back through time, delivering a short anatomical overview and examines brand treatments and movements in design. You'll learn the steps necessary to develop a successful brand system from defining the brand attributes and assessing the competition, to working with materials and vendors, and all the steps in between. The author, who is the president of the design group at Sterling Brands, has overseen the design/redesign of major brands including Pepsi, Burger King, Tropicana, Kleenex, and many more.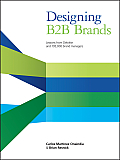 Designing B2B Brands
As an Entrepreneur you need to understand the subtlety of branding and the biggest gap in knowledge for most people is around B2B brand development.
From the Publisher. Get tactical insight from the top business-to-business branding experts and gain a global presence This comprehensive manual lays out the steps necessary for creating an iconic global identity. It uses the lessons and inside knowledge of Deloitte, the world's largest professional services organization, to help other business-to-business operations deliver a high-impact, value-added brand experience. This book will illustrate all the components of an integrated brand identity system, and how they can be crafted and implemented for optimal effect. Here, the speculative is replaced by the proven: a seamless framework for global brand success, created and followed by an organization renowned for its consulting and advisory services. Features essential up-to-date strategies for keeping your brand fresh and enduring Addresses the role of designers; the marketing and communication function; human resources and talent teams; agencies and vendors; and more Considers the impact of digital and social media, two massive forces requiring new thinking for B2B brands Incorporates best practices for emerging markets With guidance that takes you on a clear, linear path toward achieving your brand objectives, this impressive single-source volume is the one book no business marketing professional should be without.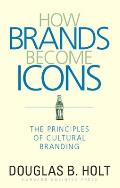 How Brands Become Icons The Principles of Cultural Branding
This is my favorite of these books and one I find myself constantly referencing. The concept of the "identity myth" is a critical one to grasp. The most powerful brands on earth all have mastered this and it shows in their control of their respective markets.
From the Publisher. Coca-Cola. Harley-Davidson. Nike. Budweiser. Valued by customers more for what they symbolize than for what they do, products like these are more than brands--they are cultural icons. How do managers create brands that resonate so powerfully with consumers? Based on extensive historical analyses of some of America's most successful iconic brands, including ESPN, Mountain Dew, Volkswagen, Budweiser, and Harley-Davidson, this book presents the first systematic model to explain how brands become icons. Douglas B. Holt shows how iconic brands create "identity myths" that, through powerful symbolism, soothe collective anxieties resulting from acute social change. Holt warns that icons can't be built through conventional branding strategies, which focus on benefits, brand personalities, and emotional relationships. Instead, he calls for a deeper cultural perspective on traditional marketing themes like targeting, positioning, brand equity, and brand loyalty--and outlines a distinctive set of "cultural branding" principles that will radically alter how companies approach everything from marketing strategy to market research to hiring and training managers. Until now, Holt shows, even the most successful iconic brands have emerged more by intuition and serendipity than by design. With How Brands Become Icons, managers can leverage the principles behind some of the most successful brands of the last half-century to build their own iconic brands. Douglas B. Holt is associate professor of Marketing at Harvard Business School.
Notice that each of these three branding books is not design focused. Look and Feel effect the brand identity, however they do not define it. Just as how you dress affects how people perceive you but does not define you. Nurturing your brand identity as you develop your next project is one if not the most important part of being a successful entrepreneur. Hopefully this installment of the Entrepreneur Reading List helps you.